Ambrogio, ecology by definition
Since its beginnings in 1969 Ambrogio has been the pioneer of a mode of transport that transferred the long-distance journeys on the railway, leaving only the local pick-ups and deliveries to the road haulage.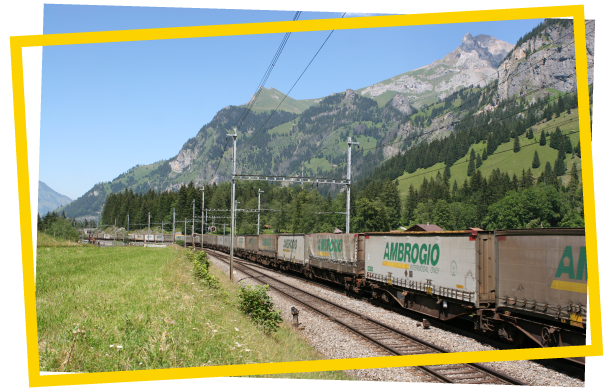 Ambrogio Group distinguishes itself with the use of innovative equipment which allow the optimization of loading weights of units and rail wagons and the subsequent increase of capacity of its own trains.
While the intermodal market developed through systems transferring semi-trailers to rail, which involve both inefficient and unnecessary transfer of superfluous weight, we here at Ambrogio were developing combinations of swap bodies and rail wagons designed to increase the payload of our own trains and to maintain the level of CO2/ton being transported at record levels.
As of today, the design features of our equipment and the use of the 13.60 metre swap body model allow us to reach the highest unit size ratio in our trains and to achieve an average 60% reduction in pollution emissions when compared to transporting exclusively by road.
Ambrogio's environmental objective has also been applied consistently in terminal management programs which led to investing in Gallarate terminal, the heart of our intermodal network, where an electric gantry crane is fed exclusively via an annual self-production of 220,000 KW generated from an innovative 2,500 m2 photovoltaic system installed on the roof of our headquarters.