Ambrogio, the specialists in intermodal services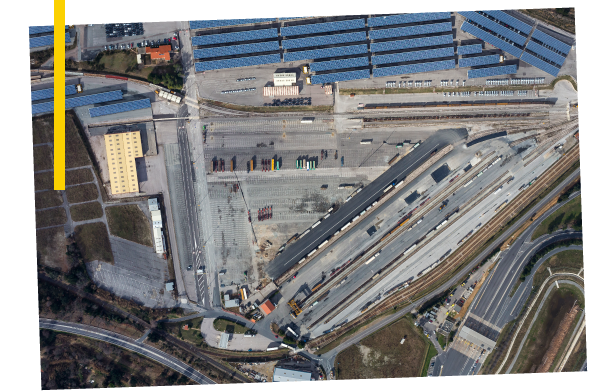 Ambrogio has been active in the international transportation sector for over 50 years and immediately specialized in intermodal transport.
Thanks to our experience, we are the ideal partner for those who need to transport large quantities of goods over long distances and for those seeking a flexible but safe solution with competitive costs.
Our company offers combined road and rail services ensuring the transportation of goods via our own intermodal transport units (UTI). Thanks to a European intermodal network, we are able to ensure a service which is efficient, punctual and flexible, suitable for the transportation of goods throughout Europe, combining the power and quantity of the vehicles deployed with minimum emission levels.

Why should you opt for intermodal transportation?

The benefits of full truck loads
Our company offers a number of customisable services, including full truck load (FTL) transportation in Europe. Full load transportation allows us to supply a single customer with an entire vehicle which guarantees greater levels of flexibility, short delivery times and consistent monitoring of goods. Full truck loads make it possible to maximise all transportation operations and to plan schedules with genuine attention to detail whilst also monitoring the type of goods being transported.

Why should you choose Ambrogio Intermodal?
Our company offers intermodal transportation solutions tailored to your requirement and employs highly qualified personnel who can arrange transportation with the finest detail from the preparatory phase through to the delivery phase.
Ambrogio Intermodal possesses a qualified European network which is characterised by:
Owned wagons fleet and intermodal terminals
13.60 m curtain sided swap bodies, also available in tautliner version, which can be opened both from the sides and at the top
ADR equipment (dangerous goods) on all traffic lines
Authorization to transport both hazardous and non-hazardous industrial waste
Proactive information regarding any possible issues throughout the transit phase
Final delivery including notice to the recipient
Options for booking and staggered deliveries
Stand-by swap bodies available upon request
We have been offering intermodal transportation services designed to meet all demands for over 50 years. Contact us now for a customised quote!
Our professionals will be able to advise you on the solution which is ideally tailored to your needs and which guarantees precision, flexibility and safety.