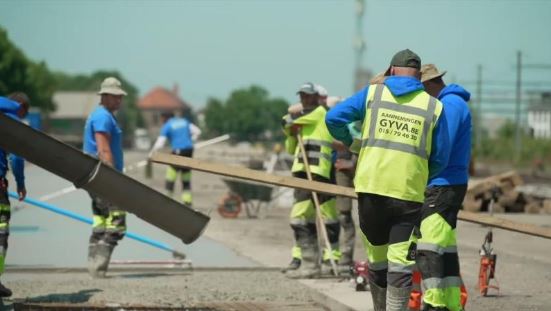 03-07-2023
MAJOR DEVELOPMENTS AT MECHELEN TERMINAL IN BELGIUM
–
In recent months, Ambrogio Intermodal has invested heavily in its Belgian subsidiary, with a significant upgrade of Mechelen terminal. Major construction work has been carried out with the addition of a rail track next to the two existing tracks and the preparation of the terminal for future developments.
"When these tracks are completed, we will be able to receive and handle three full trains at the same time", says Roberto Barraza, General Manager of Ambrogio NV.
The terminal infrastructure work is also being done in preparation for the arrival of a new gantry crane this summer. These developments will allow us to increase performance to work ever more efficiently for our customers.
Mechelen is located halfway between Brussels and Antwerp. From here, Ambrogio offers daily intermodal connections to Northern Italy. "This private terminal is located at a historic and important junction of the Rhine-Alpine corridor, one of the most important freight corridors between the Benelux and Italy," says Christoph Rogiers, Commercial Director.
Watch the video with interviews to learn more: video link
In the photos below: delivery of the new gantry crane with exceptional transport in July 2023.