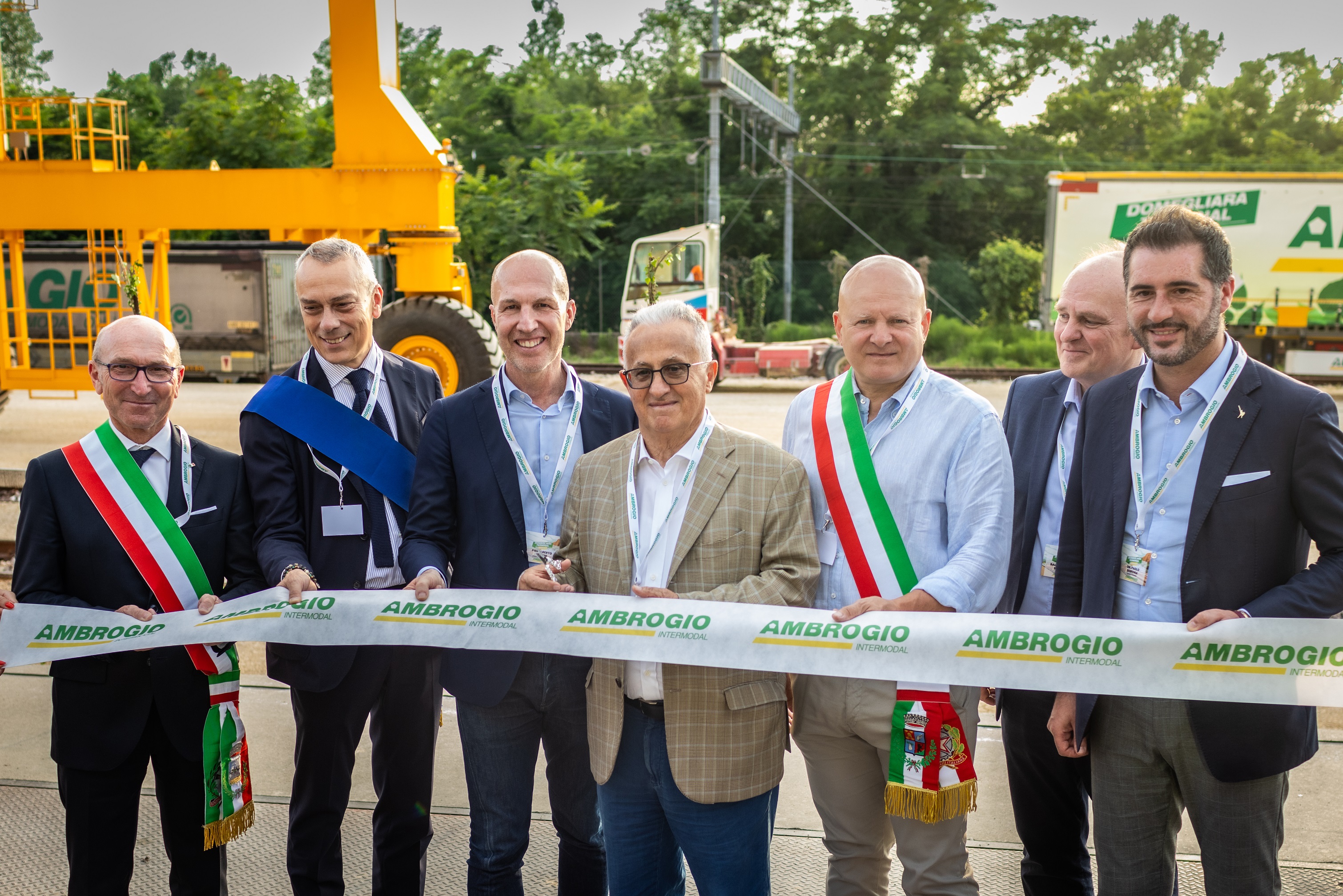 16-06-2023
AMBROGIO INTERMODAL'S NEW TERMINAL IN DOMEGLIARA OFFICIALLY OPENED
–
After one year of starting work, with the departure of the first train to Germany, the new terminal in Domegliara (Verona) is finally operational. Thanks to its strategic location on the north-south axis of Europe, it makes it possible to strengthen intermodal road-rail connections across the Brenner Pass, to meet the growing demand for sustainable transport in Europe.
There is currently an intermodal connection with Neuss, Germany, with three departures per week in each direction; this connection makes it possible to serve north-eastern Italy, the Ruhr area in Germany and the Benelux.
The terminal at Domegliara is the seventh in Europe and the third in Italy, after those at Candiolo (Turin) and Gallarate (Varese). With an area of 110,000 m2, it is also the Ambrogio Group's largest in Europe in terms of surface area. The area includes three tracks up to 700 metres long, an office building and a yard. A gantry crane has been installed to handle the loading units, with the support of two reach stackers. The addition of further tracks and the construction of a warehouse are planned, to be defined according to customer requirements and market trends. The total investment on this new facility exceeds twelve million euro.
"We are proud," says Livio Ambrogio, president of the Ambrogio Group, "of this milestone and to see, from an idea born in the midst of a pandemic, the terminal already operational just one year after the start of construction. In order to transfer traffic from road to rail, in line with the objectives of the European Green Deal, heavy investment in infrastructure and rapid action are required. We are doing our part".
Picture: Terminal opening on 15th June 2023. From left to right: Roberto Zorzi, Mayor of Sant'Ambrogio di Valpolicella – Flavio Massimo Pasini, President of the Province of Verona – Pieralberto Vecchi, CEO Ambrogio Intermodal – Livio Ambrogio, President of Ambrogio Intermodal – Massimiliano Adamoli, Mayor of Comune di Dolcé – Ralf-Charley Schultze, UIRR President – Paolo Borchia, member of the European Parliament.