E tre.. è la terza volta dopo il 2012 e 2013 che il gruppo Ambrogio si aggiudica il prestigioso riconoscimento per la sua performance globale  da parte di Sabic, una delle più importanti aziende petrolchimiche a livello mondale.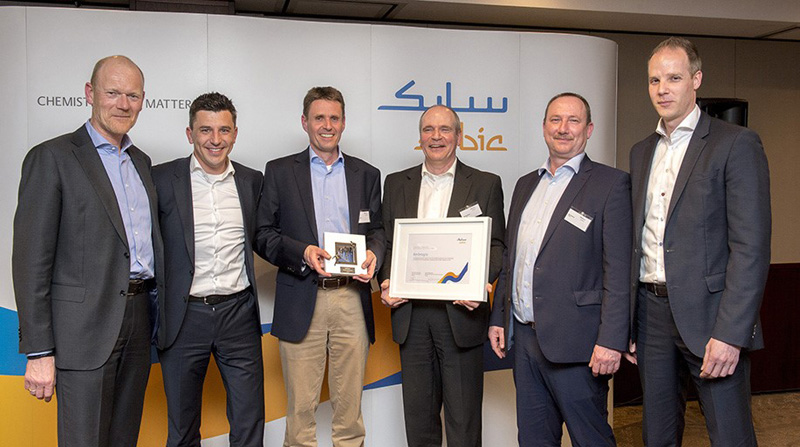 v.l. Joep Brekelmans (Senior Manager Sabic Supply Chain Sourcing & Contracting), Michel Bons (Manager Sabic Supply Chain Sourcing & Contracting), Dietmar Lonke und Michael Klöpper (Ambrogio), Mart Dohmen und Erik Hendrix (Sabic Supply Chain Sourcing & Contracting Team).

21-04-2016
Sabic Haulier of Year 2015
Die AMBROGIO-Gruppe ist am 21.04.2016 anlässlich des "SABIC Haulier Days" in Sittard zum nunmehr dritten Mal als Haulier of the Year ausgezeichnet worden.
Nach den Jahren 2012 und 2013 hat Ambrogio diese Auszeichnung nach einer einjährigen Pause für 2015 erneut für den verpackten Bereich erhalten.
Alle Ambrogio Niederlassungen in Deutschland, Italien, Belgien und Spanien waren an dieser Leistung beteiligt.
Der Dank geht an ALLE Mitarbeiter in den verschiedenen Ambrogio Niederlassungen mit der Bitte auch in diesem Jahr alles dafür zu tun um unsere Performance in der Gruppe hoch zu halten und dadurch den entscheidenden Unterschied zu unseren Mitbewerbern herzustellen.