YES, WE CAN…….AGAIN ! ! !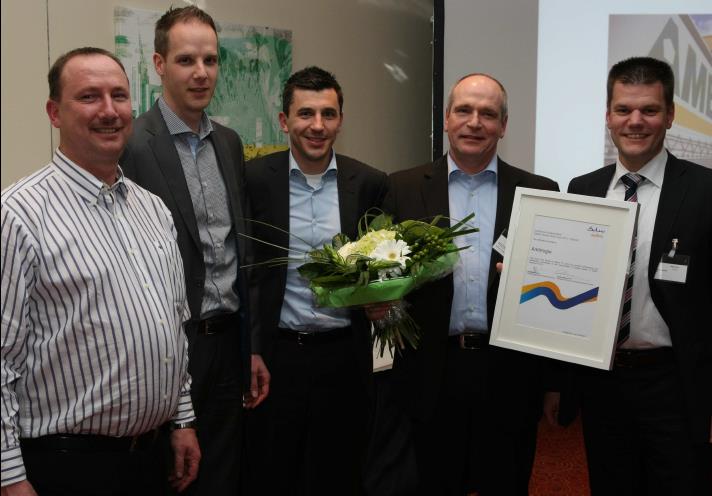 v.l. Mart Dohmen, Erik Hendrix, Michel Bons (Sabic Supply Chain Sourcing & Contracting Team), Michael Klöpper (Ambrogio) und Patrick Meersmans ( Manager Sabic Supply Chain Sourcing & Contracting)

03-04-2014
Sabic haulier of the year: Ambrogio fa il bis!
Die AMBROGIO-Gruppe ist am 17.03.2014 anlässlich des "SABIC Haulier Days" in Gelsenkirchen erneut zum Haulier of the Year ausgezeichnet worden.
Bereits im Jahre 2012 hatte Ambrogio diese Auszeichnung für den Bereich  verpackter Gütern innerhalb  Europas erhalten und nun den 'Titel' im Jahr 2013 verteidigt.
An dieser Leistung waren alle Ambrogio Niederlassungen in Deutschland, Italien, Belgien und Spanien beteiligt.
SABIC ist einer der weltweit größten Hersteller in den Bereichen Polypropylene, Polyethylene und Polyolefins sowie innovative Plastics.
" Es macht uns Stolz und zeigt, dass wir auch in schwierigen Wirtschaftlichen Zeiten den Richtigen Weg im Bezug auf Leistung und Qualität unserer Transportabläufe beschritten haben sagte Michael Klöpper, Verkaufsleiter für Ambrogio Deutschland anlässlich der Award Übergabe. Wir werden dran bleiben und nicht nachlassen, der Dank geht an unsere Mitarbeiter die im höchsten Maße motiviert sind um 2014 das 'Triple' zu schaffen".
Also dann, gehen wir es an……..auf ein Neues im Jahr 2014 !